Waiting on Wednesday is a weekly event hosted by Jill at Breaking the Spine that spotlights upcoming releases that we're eagerly anticipating.
Lisa's pick this week:
Made For You
by Melissa Marr
Release Date: September 16, 2014
Publisher: HarperCollins
Genres: Fantasy, Paranormal, Young Adult
Find It: Goodreads •
Bestselling author of the Wicked Lovely books Melissa Marr's first contemporary YA novel is a twisted southern gothic tale of obsession, romance, and murder. A killer is obsessed with Eva Tilling. Can she stop him, or will he claim her?

When Eva Tilling wakes up in the hospital, she's confused—who in her sleepy little North Carolina town could have hit her with their car? And why? But before she can consider the question, she finds that she's awoken with a strange new skill: the ability to foresee people's deaths when they touch her. While she is recovering from the hit-and-run, Nate, an old flame, reappears, and the two must traverse their rocky past as they figure out how to use Eva's power to keep her friends—and themselves—alive. But while Eva and Nate grow closer, the killer grows increasingly frantic in his attempt to get to Eva.

For the first time, New York Times bestselling author Melissa Marr has applied her extraordinary talent to contemporary realism. Chilling twists, unrequited obsession, and high-stakes romance drive this Gothic, racy thriller—a story of small-town oppression and salvation. Melissa's fans, and every YA reader, will find its wild ride enthralling.
Why I'm waiting: "Melissa Marr's first contemporary YA novel is a twisted southern gothic tale of obsession, romance, and murder." Honestly, that sentence alone grabbed my attention. I've been reading nothing but YA contemps and NA romances lately… I'm definitely in the mood to switch it up a bit, and I could definitely go for a gothic tale about obsession, romance, and MURDER! Bwahahaha…
Becca's pick this week: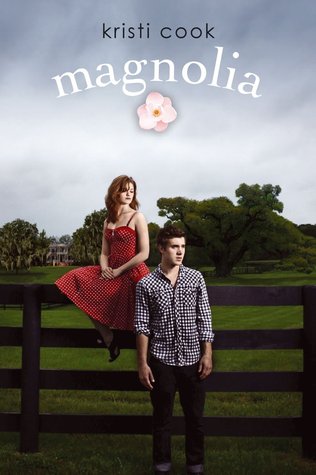 Magnolia
by Kristi Cook
Published: August 5, 2014
Publisher: Simon & Schuster
In Magnolia Branch, Mississippi, the Cafferty and Marsden families are southern royalty. Neighbors since the Civil War, the families have shared vacations, holidays, backyard barbecues, and the overwhelming desire to unite their two clans by marriage. So when a baby boy and girl were born to the families at the same time, the perfect opportunity seemed to have finally arrived.

Jemma Cafferty and Ryder Marsden have no intention of giving in to their parents' wishes. They're only seventeen, for goodness' sake, not to mention that one little problem: They hate each other! Jemma can't stand Ryder's nauseating golden-boy persona, and Ryder would like nothing better than to pretend stubborn Jemma doesn't exist.

But when a violent storm ravages Magnolia Branch, it unearths Jemma's and Ryder's true feelings for each other as the two discover that the line between love and hate may be thin enough to risk crossing over.
Why I'm waiting: This cover is absolutely adorable. I am quickly coming to love books set on a farm. Maybe it's from memories of my childhood in Virginia 🙂 Magnolia sounds so perfect! Jemma and Ryder have known each other since birth because they are neighbors and their families are very close. These two are fighting the love connection their families desperately want. This book sounds sweet and fun and I can't wait to read it!

What are you waiting on this week?
Related Posts